Surveillance is an essential component of any integrated vector management (IVM) program. Through surveillance, Delta Vector Control District can monitor sources, mosquito abundance, and mosquito-borne disease presence across the District. This information can then be used to more effectively target and monitor control efforts. District residents play a crucial role in surveillance.
Vector Surveillance
Mosquito abundance in any given area is monitored through routine and strategic mosquito traps that are typically placed from April through October. Every week, 232 mosquito traps, roughly 5 per square mile, are placed at fixed locations in suburban areas. Approximately 40 additional traps are placed as needed to evaluate potential mosquito issues or to narrow down the location of potential sources. Every mosquito caught by these traps is identified by species and counted. 
Surveillance is made possible by District residents. Volunteer trap hosts allow the District to place traps in their yard for either a single night or once a week during the mosquito season. Routine or fixed-location traps are placed at the same location for the duration of the mosquito season while strategic traps may be placed at a different location each time they are set. 
Mosquito traps only catch mosquitoes that are already in the general area of the mosquito trap. While there are many types of traps, Delta Vector Control District uses three main types for their surveillance.
EVS Traps
Encephalitis Virus Surveillance (EVS) traps are typically placed in rural areas like orchards or along river banks. They are used to catch female mosquitoes that are looking for a host to bite. Dry ice is often used as a carbon dioxide bait to trick female mosquitoes into thinking that a living host is nearby. EVS traps mostly catch native mosquito species that prefer to feed on birds.
BG Sentinel Traps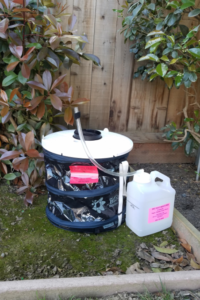 Biogents Sentinel or BG Sentinel traps come in two different types. BG Sentinel 1 traps are the first generation trap and are mostly white while BG Sentinel 2 traps are dark blue with a white and black top. This contrasting color scheme helps attract female mosquitoes that are looking for a host to bite. A mixture of sugar and bakers yeast is placed nearby as a carbon dioxide bait. Unlike the EVS Trap, BG Sentinel traps are placed in urban areas to catch invasive Aedes mosquito species that prefer to feed on people.
Gravid Traps
Gravid traps are typically placed in urban and suburban areas. They are used to catch female mosquitoes that have fed on a host and are looking for a place to lay their eggs. A tray of infusion water tricks the female mosquito into approaching the trap. Gravid traps mostly catch native mosquito species.
Disease Surveillance
Delta Vector Control District monitors mosquitoes and dead birds for common mosquito-borne diseases that are a seasonal disease risk in our area.  Lab tests are conducted in house, allowing a quick turnaround time from sample collection to test results. Our lab is certified annually through the California Department of Public Health which allows us to contribute to state-wide vector-borne disease surveillance.
Female mosquitoes capable of transmitting West Nile Virus, St. Louis Encephalitis Virus, or Western Equine Encephalitis Virus are tested for those viruses when at least 10 are caught in a single trap. Birds are an important part of the transmission cycle for these viruses and may die when they are infected. Dead birds can be tested for these viruses when they have been dead for less than 48 hours and have not died from obvious trauma.
Report dead birds to Delta Vector Control District at 559-732-8606 or by calling through the California Dead Bird Hotline.
Source Surveillance
Mosquito sources are bodies of standing water, large or small, where mosquitoes can lay their eggs and develop into adults. Potential sources such as water holding basins, dairy lagoons, storm basins, and other known sources are regularly monitored and treated when necessary. Other sources that change frequently, such as green swimming pools or flooded areas, are more difficult to locate. A surveillance flight at the beginning of each mosquito season helps to identify these potential sources. 
However, the District needs the help of residents to identify green swimming pools, neglected hot tubs, and other sources through the rest of the season. You can anonymously report green pools, hot tubs, and other potential sources online using the service request form or by calling 559-732-8606 during regular business hours. The District does not charge for services.
Service Request?

Get in Touch.
1737 West Houston Ave
Visalia, CA. 93291
Ph. 559-732-8606
TF. 877-732-8606
Fax. 559-732-7441
Monday–Friday,
7:30 AM to 4:00 PM (excluding holidays)