Visalia, CA, 07/05/2023
West Nile virus (WNV) Detection in Mosquito Samples from Delta Mosquito and Vector Control District
Visalia, CA: The Delta Mosquito and Vector Control District is reporting mosquito samples tested positive for WNV.
11 mosquito samples were collected from 8 locations in Visalia, Dinuba, and Farmersville.
Sample 1,2: Visalia. Near West Riggin Ave and North Akers st.
Sample 3: Visalia. Near West Houston Ave and North Linwood st.
Sample 4: Visalia. Near West Tulare Ave. and South Roeben st.
Sample 5,6: Visalia. Near West Murray Ave. and North Rinaldi st.
Sample 7,8: Visalia. Near West Riggin and North Dinuba Blvd.
Sample 9: Farmersville. West Walnut Ave and Farmersville Blvd
Sample 10: Farmersville. Visalia Rd and Farmersville Blvd
Sample 11: Dinuba. East Kamm Ave. and South Alta Ave.
See maps below.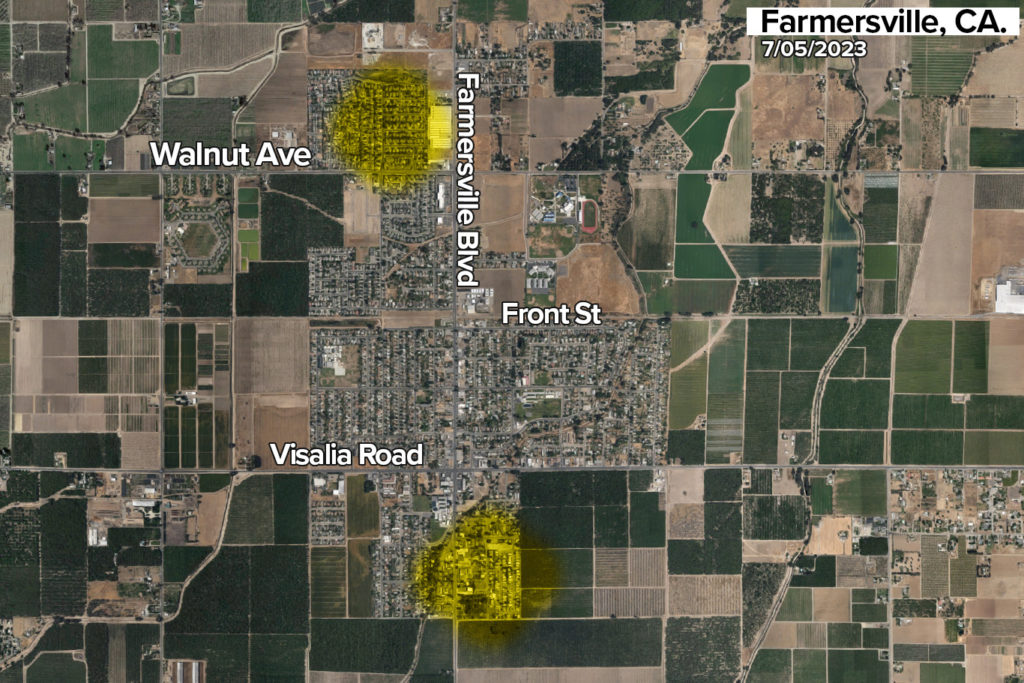 West Nile virus is transmitted to people and animals through the bite of an infected female mosquito. Mosquitoes become infected when they feed on infected birds. Infected mosquitoes then spread West Nile virus to people and other animals by biting them.
While most infected people will have no symptoms, others will develop fever, headaches, and body aches. Some cases require hospitalization and, in rare cases, death occurs. People with symptoms should contact their health care provider. Adults over 50 years old and people with compromised immune systems are at increased risk of serious complications. However, anyone who develops symptoms should seek medical care immediately.
Every effort is being made to locate areas of standing water where mosquitoes may breed, including but not limited to catch basins, storm drain systems, and neglected swimming pools. Neglected swimming pools continue to be a mosquito breeding issue in the District. Neglected swimming pools can be reported to the District anonymously for treatment at (559) 732-8606.
Reduce the risk of contracting mosquito-borne diseases such as West Nile virus by following these guidelines:
– Prevent mosquito bites by using an EPA-registered insect repellent when going outside around dawn and dusk, when these mosquitoes are most active. Follow the instructions listed on the EPA-registered insect repellent product label.
– Cover up. Wear long sleeve shirts and long pants when mosquitoes are most active to reduce bites.
– Check window and door screens to prevent mosquitoes from entering your home.
Prevent mosquitoes around your home:
– Inspect yards for standing water sources. Drain water that collects under potted plants, bird baths, tires, and any other water-holding containers.
– Screen the openings of lawn drains.
– Clean and scrub pet dishes and water features weekly.
– Swimming pools, ponds, and fountains require working pumps and regular maintenance. Report neglected swimming pools anonymously to Delta Mosquito and Vector Control District for treatment.
– Request free mosquitofish for backyard ponds, horse troughs, or neglected swimming pools. Free mosquitofish are available at the District office located in Visalia at 1737 W Houston Ave.
Reporting and testing of dead birds is one way to check for the presence of West Nile virus in the environment.
Horses are very susceptible to West Nile virus and can be vaccinated. Horse owners are advised to contact their veterinarians regarding timely vaccinations.
For information about mosquitoes, West Nile virus, or to request District services, visit www.DeltaMVCD.org or call (559) 732-8606.
-END-